The wedding of Anne Shirley and Gilbert Blythe took place in September 1890, at Green Gables, Avonlea, Prince Edward Island.
The wedding took place at September 1890, at Green Gables. They were married in the old orchard, surrounded by their friends. Mr. Allan married them, and the Reverend Jo made what Rachel Lynde pronounced to be the "most beautiful wedding prayer" she had ever heard.
A bird sang sweetly while Gilbert and Anne repeated their deathless vows. Anne heard it and was overjoyed; Gilbert heard it, and wondered only that all the birds in the world had not burst into jubilant song; Paul heard it and later wrote a lyric about it which was one of the most admired in his first volume of verse; Charlotta the Fourth heard it and was blissfully sure it meant good luck for her adored Miss Shirley. The bird sang until the ceremony was ended and then it wound up with one mad little, glad little trill.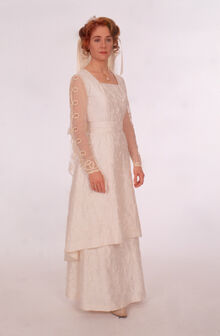 Laughter and joy had their way; and when Anne and Gilbert left to catch the Carmody train, with Paul as the driver, Dora and Davy were ready with rice and old shoes, in the throwing of which Charlotta the Fourth and Mr. Harrison bore a valiant part. Marilla stood at the gate and watched the carriage out of sight down the long lane with its banks of goldenrod. Anne turned at its end to wave her last good-bye. Green Gables was her home no more; Marilla's face looked very grey and old as she turned to the house which Anne had filled for fourteen years, and even in her absence, with light and life.
Anne wore a beautiful wedding gown and a veil and carried an armful of roses. She was said by Diana to have looked like a queen in it. It was rumoured that for her "something blue," she wore a faded blue ribbon.
Appearances
Edit
Ad blocker interference detected!
Wikia is a free-to-use site that makes money from advertising. We have a modified experience for viewers using ad blockers

Wikia is not accessible if you've made further modifications. Remove the custom ad blocker rule(s) and the page will load as expected.