"Thursday's Child" is the ninth episode of Season 5 of Road to Avonlea and the 61st episode overall.
The King family are devastated when Cecily contracts tuberculosis. Felicity and Muriel seek out a doctor to learn more about the disease. Alec and Janet must make a painful decision on whether to send Cecily to a sanitarium.
Main cast

Recurring cast

Marilyn Boyle as Mrs. Inglis
Alex Floyd as Baby Daniel
Ryan Floys as Baby Daniel
Kay Hawtrey as Mrs. Sloane
Anne Holloway as Mrs. Brown
Graham McPherson as Dr. Snow
Lindsay Murrell as Dora Keith
Sarah Polley as Sara Stanley (credit only)
Kay Tremblay as Great Aunt Eliza

Guest cast

Brenda Bazinet as Dr. Jones

Co-starring

Charles Hayter as Farmer Simpson
Glen Peloso as Joel (uncredited)
Mary Pirie as Mother

Other cast
Behind the scenes
Edit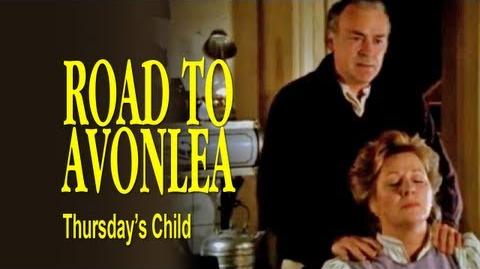 External links
Edit
Ad blocker interference detected!
Wikia is a free-to-use site that makes money from advertising. We have a modified experience for viewers using ad blockers

Wikia is not accessible if you've made further modifications. Remove the custom ad blocker rule(s) and the page will load as expected.