Nova Scotia is a Canadian province. It is one of the country's three Maritime provinces and one of Canada's four Atlantic provinces. Nova Scotia is the second-smallest province in Canada and its provincial capital is Halifax.
Nova Scotia is the province where Anne Shirley and Philippa Gordon were born.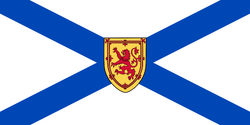 Etymology
Edit
Nova Scotia means New Scotland in Latin and is the recognized English-language name for the province. In Scottish Gaelic, the province is called Alba Nuadh, which also simply means New Scotland.
Behind the scenes
Edit
Appearances
Edit
External links
Edit
Ad blocker interference detected!
Wikia is a free-to-use site that makes money from advertising. We have a modified experience for viewers using ad blockers

Wikia is not accessible if you've made further modifications. Remove the custom ad blocker rule(s) and the page will load as expected.