L.M. Montgomery's Anne of Green Gables: Fire & Dew is a 2017 Canadian television film produced by Breakthrough Entertainment. It was written by Susan Coyne and stars Ella Ballentine, Martin Sheen and Sara Botsford. It premiered in Canada on YTV on July 1, 2017.
Anne heads to Charlottetown to attend accelerated classes as she continues to work towards her dream of being a school teacher. While there, she is forced to adapt quickly to her new surroundings and classmates as she navigates her way through her first school experience outside of her beloved Green Gables. Anne finds herself facing daunting choices for her future, the stirrings of romance, and tragedy unlike anything she's ever known. Meanwhile, Matthew and Marilla Cuthbert contend with advancing age as they deal with financial challenges and creeping ailments.[2]
Executive Producers: Joan Lambur, Peter Williamson, Ira Levy, Kate Macdonald Butler
Writer: Susan Coyne
Distribution
Edit
Behind the scenes
Edit
Casting
Jim Annan, who played Mr. Abbey, also portrays Mr. Gillis in the CBC's TV series Anne (2017).
Sean McCann, who portrayed Doctor (named Dr. Spencer in the first film of the trilogy), had previously played the same part in the 1985 film Anne of Green Gables (though the character's name was Dr. O'Reilly, not Dr. Spencer). McCann also played Six-Toed Jimmy in the 1982 short film I Know a Secret, which was based on one of L.M. Montgomery's short stories.
Sara Botsford, who portrayed Marilla Cuthbert, had provided the voices of Mrs. Barry and Frau Schuller in the animated video film Anne: Journey to Green Gables (2005).
Trailers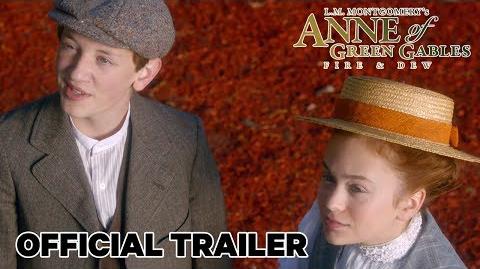 References
Edit
External links
Edit
Ad blocker interference detected!
Wikia is a free-to-use site that makes money from advertising. We have a modified experience for viewers using ad blockers

Wikia is not accessible if you've made further modifications. Remove the custom ad blocker rule(s) and the page will load as expected.