"I read in a book once that a rose by any other name would smell as sweet, but I've never been able to believe it. I don't believe a rose would be as nice if it was called a thistle or a skunk-cabbage."
This article is about Kenneth and Rilla Ford's son. You may be looking for his grandfather, Gilbert Blythe.
Gilbert Ford
Biographical information
Born
Physical information
Gender

Male

Skin colour

Fair

Family information
Family members

Parents

Siblings

Grandparents

Aunts and uncles

Cousins

Affiliation
Family

Ford family

Books universe
Gilbert Ford was the son of Rilla and Kenneth Ford, the brother of Rilla Ford and the grandson of Anne Shirley and Gilbert Blythe.
Biography
Early life
Gilbert was probably born in the early 1920s in Glen St. Mary, Prince Edward Island, to Rilla and Kenneth Ford. He was raised there along with his sister Rilla and attended the Glen school at the age of six. He lived in Toronto, Canada.
World War II
Like his uncle Shirley, he joined the Flying Corps. Both he and his cousin Walter tried to court Zoe Maylock.
Personality
Physical appearance
Etymology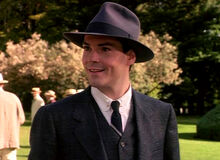 Gilbert is a male given name of Old French origin and means bright promise.
Appearances
Short story appearances
Ad blocker interference detected!
Wikia is a free-to-use site that makes money from advertising. We have a modified experience for viewers using ad blockers

Wikia is not accessible if you've made further modifications. Remove the custom ad blocker rule(s) and the page will load as expected.