Gilbert Blythe
1,033 articles
in progress
Comments

0
Article | Appearances | Gallery
---

Gilbert Blythe was the son of John and Mrs. Blythe, the husband of Anne Shirley and the father of Joy, Jem, Walter, Nan, Di, Shirley and Rilla Blythe.
After he finished school, he attended Queen's Academy and was a medalist. He then went on to teach for two years at a school in White Sands to earn money for college before attending Redmond College. He went to medical school (which he attended for three years) to train to become a doctor. After he left medical school and became a full-fledged doctor, he married his childhood friend and schoolmate, Anne Shirley. The two of them had seven children together, the eldest of whom, Joyce, died at birth, and the third, Walter, died while fighting in the World War I.
Biography
Early life
Gilbert was born in 1862 in Avonlea to John Blythe and his wife. He was in Anne and Diana's class in school although, at thirteen, he was two years older. He had been away due to his father's illness and had missed a lot of school. This motivated him to work hard to catch up. He enjoyed competing with Anne for the top ranking in every subject.
Teaching school
After graduating from Queen's Academy, he applied for a teaching job at the Avonlea school. Anne had also applied for this school because she wanted to be close to Marilla and help her out, since Matthew had just died. When Gilbert heard about this, he chose to give up the position and told the board of trustees to let Anne have the school. He took a position at the school in White Sands that September.
Redmond College
Gilbert later attended Redmond College with fellow schoolmates Anne, Charlie Sloane, Moody Spurgeon MacPherson, and others.
Near the end of their sophomore year in college, Gilbert proposed to Anne, only to be rejected. He was crushed when Roy Gardner appeared on the scene, sweeping Anne off her feet with his good looks and manners. They kept up a relationship for almost two years until Roy proposed to her, whereupon Anne realized she could never marry him. She knew that he wasn't her ideal because he was superficial and lacked a sense of humour. In fact, he was the antithesis (in personality) of Gilbert.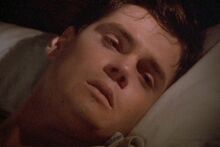 Gilbert had heard that Anne was engaged to Roy Gardner and thought he'd lost her forever. He contracted typhus at medical school and became extremely ill. But when Philippa Gordon, one of Anne's friends and housemates, wrote to assure him that there was nothing between Roy and Anne and urged him to 'try again,' the doctors were amazed at his speedy recovery. When Anne heard that he was near death, she had a revelation: she loved Gilbert and always had. After his recovery, they resumed their friendship, but Gilbert soon proposed and Anne finally accepted.
Medical school
Gilbert attended medical school after leaving Redmond College. He and Anne exchanged letters regularly while he was away and she was principal of Summerside High School. They kept up this correspondence which Anne embellished with endearments from old love letters she had found in the house where she was staying. She and Gilbert saw each other on vacations when possible. Their love grew stronger in spite of the separation.
Marriage
Anne and Gilbert were married at Green Gables in a beautiful ceremony in the orchard on a sunny September noon, three years to the day that Gilbert had proposed and asked Anne to "keep this day sacred to perfect beauty all our lives."
The wedding was small and private, with only the people who loved them invited. Marilla was pleased with the marriage because she had once been courted by Gilbert's father, John Blythe, many years before. They had argued and Marilla had refused to forgive him, and he never came back. Marilla felt that Anne's marriage to John's son was a way of putting right what had been made wrong in the past.
Life at the House of Dreams
Before their wedding, Gilbert had gone to Glen St. Mary in search of a home for the two of them. He found a place near the sea with a rich history of young love and happiness. Anne and Gilbert lived a nearly idyllic life at Four Winds Harbour in their little House of Dreams. They met Captain Jim, Miss Cornelia and Leslie and became involved in their lives in ways that helped both of them.
Two children were born at the House of Dreams in Four Winds, the first of whom died at birth. Anne had a difficult time, and Gilbert was afraid she might die. However, she survived and later had a second child, James Mathew, who was named after Captain Boyd and Anne's guardian, Matthew Cuthbert. Anne was sad to leave their first home together, but Gilbert knew they were outgrowing it and there was an even finer house to be had.
Life at Ingleside
Anne and Gilbert had their remaining five children at Ingleside. They were Walter, twins Nan, Di, Shirley, and Rilla.
World War I
At this time Gilbert was near the end of middle-aged years and was referred to as "the old doctor".
When the World War I broke out, Gilbert and Anne's oldest son, Jem and Jerry Meredith, the minister's son, enlisted. Jem went off radiantly, as to a high adventure.
Some time after, their second son, Walter, grappled with the decision of whether he should go off to war as well. He had Anne's deeply poetic and sensitive nature, and hated the ugliness of war. In the end he went, "in a white flame of sacrifice." When Shirley, their youngest son, turned eighteen, he went off to be a pilot "in a cool, business-like mood, as of one doing something, rather dirty and disagreeable, that had just got to be done."
Walter was killed in action in Courcelette (during the Battle of Fleurs), Jem was taken prisoner but eventually returned, and Shirley came back unscarred. Their two older daughters, Nan and Di, went to Kingsport to do work with the Red Cross. Rilla becomes responsible for a war baby when Gilbert advises her that if she wants to keep it, she must care for it herself. She grew and matured as a result of this experience. She became engaged to Kenneth Ford, the son of Anne and Gilbert's friends Leslie and Owen Ford.
After his sons all went off to war, Gilbert was described as feeling that his house was very empty, no longer filled with children's laughter as it had once been. He does his best to stay focused on his work and support Anne in her overwhelming grief over the loss of their son Walter.
Personality
Gilbert was very self-assured at first and teased all the girls. Later, he realizes he wasn't such hot stuff when Anne arrived in school and she was the first person to reject him.
He tried to apologize to Anne but for a long time she refused to forgive him for calling her Carrots. When she finally did, he was grateful and happy. He spent the next nine years being her friend and pursuing her love.
When they married, he knew that he had completely won the heart of the person he loved most in the world, Anne of Green Gables.
Physical appearance
Gilbert had brown hair and hazel eyes. He was described as very handsome boy.
Etymology
Gilbert is a male given name of Old French origin and means bright promise.
Behind the scenes
Portrayal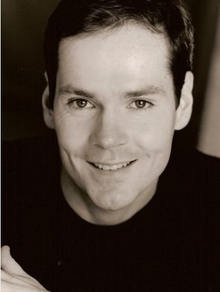 Trivia
Gilbert was modeled after Will G. Pritchard, one of Lucy Maud Montgomery's first kindred spirits, who lived in Prince Albert, Saskatchewan. Diana Barry was modeled after Will's sister Laura.
Gallery
Appearances
Main article: Gilbert Blythe/Appearances
Book appearances

Short story appearances

Film appearances

TV series appearances

Stage appearances

Radio drama appearances

Web series appearances
External links