Felix King
was the son of
Alec
and
Janet King
, the younger brother of
Felicity
, the older brother of
Cecily
and
Daniel
, and the cousin of
Andrew
,
Sara
,
Monty
and
Alicia
.
Biography
Edit
Felix was the second child and older son of Alec King and Janet Ward. He spent most of his childhood in Avonlea with his family.
Personality
Edit
Physical appearance
Edit
Etymology
Edit
Felix is a male given name and surname that stems from Latin (fēlix, felicis) and means "lucky", "favored by luck" or "the lucky one".
Behind the scenes
Edit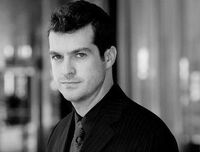 Portrayal
Trivia
The official Road to Avonlea website describes him thus: Mischievous and always getting into trouble, Felix is the eldest son of Alec and Janet King. He is quite ambitious and is always trying to find ways to make money. In spite of that, he ultimately chooses to enlist and fights bravely in the trenches during WWI.[2]
Felix King is based on the character of the same name from L.M. Montgomery's books, The Story Girl and The Golden Road, which feature the King family, who reside in a rural community on Prince Edward Island. In the books, he is the younger brother of Beverley King, the narrator of the aforementioned novels, and they have been sent to reside with their Aunt Janet and Uncle Alec King while their father is away on business.
Appearances
Edit
Season 1 (Road to Avonlea)
Season 2 (Road to Avonlea)
Season 3 (Road to Avonlea)
Season 4 (Road to Avonlea)
Season 5 (Road to Avonlea)
Season 6 (Road to Avonlea)
Season 7 (Road to Avonlea)
TBA
Films
References
Edit
↑

Janet says that "Felix had just bee born when Ruth..." and trails off, with the last word implied to be "died"; according to her tombstone, Ruth died in 1894, so Felix was born around the same time.
Individuals
Major characters
Diana Barry · Gilbert Blythe · Katherine Brooke · Eulalie Bugle · Marilla Cuthbert · Matthew Cuthbert · Jasper Dale
Jack Garrison · Archie Gillis · Emmeline Harris · Margaret Harris · Morgan Harris · Pauline Harris · Davey Keith
Dora Keith · Alec King · Andrew King · Cecily King · Daniel King · Felicity King · Felix King · Hetty King · Janet King
Olivia King · Elvira Lawson · Rachel Lynde · Clive Pettibone · Izzy Pettibone · Gus Pike · Bert Potts · Clara Potts
Josie Pye · Anne Shirley · Moody Spurgeon · Muriel Stacey · Sara Stanley · Amelia Thomas · Louisa Thomas
Simon Tremayne · Eliza Ward
Minor characters
Adele · Alexander Abraham · Alan · Mrs. Allan · Reverend Allan · Lewis Allen · Mr. Ambrose · Captain Ames
Charlotte Ames · Andrew · Ginny Andrews · Harmon Andrews · Jane Andrews · Prissy Andrews · Henry Archibald
Gene Armstrong · Jim Armstrong · Teddy Armstrong · Duke of Arranagh · Louisa Banks · Miss Barlow · Mr. Barlow
Elizabeth Barry · Elsie Barry · John Barry · John Barry · Josephine Barry · Minnie May Barry ·
Mr. Beasly · Horace Beck · Tommy Bell · Mr. Biggins · Mrs. Biggins · Mr. Billingsly · Lady Blackwell · Betty Blaine
Rudy Blaine · Dr. Blair · Gabriel Blake · Mr. Blakey · Mrs. Blewett · Dominic Blythe · Frannie Blythe
John Blythe · Rilla Blythe · Mr. Boddin · Captain Borden · Mrs. Boulter · Tillie Boulter · Milty Boulton · Peg Bowen
Emma Bradley · Gordon Bradley · Mrs. Bradley · Ruth Bridgewater · Brigitte · Mrs. Brown · Alphie Bugle · Cornelia Bugle
Mr. Bugle · Velma Bugle · Jerry Buote · Margaret Bush · Mrs. Cadbury · Enoch Cain · Mr. Cameron · Wellington Campbell
Isabelle Carrington · Sydney Carver · Miss Cavendish · Mr. Chambers · Edwin Clark · Colette
Lottie Cooper · Maude Craig · Peter Craig · Ezekiel Crane · Alicia Dale Jr. · Caspar Dale · Galileo Dale · Jeremiah Dale
Lancelot Dale · Minerva Dale · Montgomery Dale · Olympia Dale · Selena Dale · Nurse Darlington · Belle-Marie Dean
Cally Dean · Duffy Dean · Edgar Dean · Alistair Dimple · Theodora Dixon · Mr. Duncan · Mr. Dunn · Booth Elliott
John Elliott · Viola Elliott · Emily · Essie · Essie · Amelia Evans · Elvira Evans · Emily Everett-Smythe · Ferguson
Margaret Fieldcrest · Brian Findlay · Mrs. Findlay · Officer Findlay · Reverend Fitzsimmons · Agnes Forbes
Eagan Frane · Kit Garrison · German Tourist Hans · Gertrude · Robert Gillis · Ruby Gillis · Rupert Gillis
Gulley Gogarty · Goliath · Miss Gordon · Philip Granger · Sylvia Gray · Alice Greene · Baby Grier · Emmett Grier
Evelyn Grier · Miss Grindstaff · Mr. Hammond · Mrs. Hammond · Mr. Harding · Mr. Hardy · Mrs. Hardy
Mrs. Harrington · Mr. Harrison · Mrs. Harrison · David Hawes · Lillian Hepworth · Wally Higgins · Adeline Hodgson
John Hodgson · Buck Hogan · Emmet Horn · Ada Hubble · Hannah Hubble · Heath Hymus · Harry Inglis · Mrs. Inglis
Isis · Elsie James · Abner Jeffries · Jimmy · Joel · Dr. Jones · Reverend Jones · Katie · Fergus Keegan
Mrs. Kennedy · Isaac Kent · Miss Kerr · Miss Kerr · Duncan Kincaid · Roger King · Pierre La Pierre · Alan Laing
Jeremiah Land · Miss Langley · Mrs. Latham · Laura · Alice Lawson · Charles Lawson · Hepzibah Leach · Leo
Reverend Leonard · Mrs. Leslie · Becky Lester · Donny Lester · Lionel Lester · Molly Lester · Nat Lester · Wiley Lester
Old Lady Lloyd · Louie · Megget Lydie · Billy Lynde · Robert Lynde · Thomas Lynde · Gurney MacDonald
Laura MacDonald · Phoebe MacDougall · Abigail MacEwan · Lucky MacEwan · Malcolm MacEwan · Bert MacKay
Miss MacKay · Charlie Mackenzie · Maggie MacPhee · Ezra MacRae · Mrs. MacRae · Count Marek
Miss Marsden · Mary · Duncan McBean · Angus McCorkadale · Mr. McCorkadale · Mrs. McCorkadale
Alec McGuiness · Eleanor McHugh · Miss McKay · James McKearney · Arthur McMillan · William McMillan
Bret McNulty · Ian McNulty · Jim McNulty · Stuart McRae · Duncan McTavish · Menushkin · Percy Methley
Mrs. Millings · Maud Montrose · Mr. Moseworth · Suzette Moreau · Reverend Morgan
Zak Morgan · Mr. Morley · Calvin Murphy · Matt O'Donnell · Dr. O'Reilly · Odelia · Edward Osborne · Walter Owen
Mr. Packet · Clement Paquette · Judson Parker · Nellie Parkhurst · Romney Penhallow
Teddy Penhallow · Arthur Pettibone · Morgan Pettibone · Mr. Phillips · Abe Pike · Eliza Pike · Howie Pinker · Jo Pitts
Miss Plover · Pigeon Plumtree · Countess Polenska · Sally Potts · Dr. Powell · Hattie Pringle · Jen Pringle
Jimsie Pringle · Mr. Pringle · Mrs. Albert Pringle · Mrs. James Pringle · Mrs. John Pringle · Mrs. Tom Pringle
Mrs. Walter Pringle · Myra Pringle · Colleen Pritchard · Mavis Pritchard · Seth Pritchard · Anthony Pye
Mr. Pye · Quint · Rackham · Mr. Radcliffe · Jonathan Ravenhurst Blackwell · Clemmie Ray · Edward Ray
Mrs. Ray · Simon Redfox · Kitty Riley · Travis Riley · Professor Rizelli · Grandmère Robichand · Rose · Rusty
Robert Rutherford · John Sadler · Mrs. Sandborn-Ellis · Amelia Sandhurst · Madame Selitsky · Nelly Shatford
Bertha Shirley · Walter Shirley · Pat Shore · Theodore Simpkin · Mr. Simpson · Mr. Skinner · Mrs. Skinner
Charlie Sloane · Mabel Sloane · Mrs. Sloane · Lemuel Snibb · Dr. Snow · Dr. Sparrow · Sarah Spencer · Amos Spry
Jane Spry · May Spry · Mrs. Spry · Stephen Spry · Blair Stanley · Ruth Stanley · Stationmaster · Farmer Steel
Greta Steig · Stevedore · Caleb Stokes · Amanda Stone · Christine Stuart · Dr. Stuart · Dr. Thomas · Jock Thomas
Keith Thomas · Violetta Thomas · Mr. Todd · Mrs. Todd · Tom · Tom · Mrs. Trilby · Trissy · Mr. Tumbridge · Mr. Tweed
Mrs. Tweed · Mrs. Tweed · Mr. Tyler · Mr. Wakefield · Winifred Ward · Hank Webster · Elbert Werts
Mrs. Wigmore · Palmer Winfield · Fred Wright · Fred Wright Jr. · Miss Wright