Diana Barry
1,333 articles
in progress
Comments

2
Diana Wright (nee Barry) was the daughter of George and Mrs. Barry, the older sister of Minnie May, the wife of Fred Wright, the mother of Fred Jr., Anne Cordelia, and Jack Wright and the bosom friend of Anne Shirley.
Biography
Early life
Diana was born in February 1865 in Orchard Slope, Avonlea, to George and Mrs. Barry. There was a schoolmaster boarding with the Barry family at the time and he named the newborn girl Diana.
She was raised there along with her friends, Jane Andrews and Ruby Gillis. In September of 1871, Diana and her friends attended Avonlea school. When she was eight years old, her younger sister Minnie May was born.
Arrival of Anne Shirley
When Anne Shirley moved into Green Gables, Marilla suggested Diana as a possible friend for her. Optimistic and hopeful, Anne was immediately exuberant and excited at the thought of becoming friends with Diana, though she was worried if Diana's mother would approve of her, the orphan of nowhere. Fortunately for Anne, Mrs. Barry did allow her to be Diana's playmate. The two became dear friends, following a serious ceremony in which they swore to be "bosom friends" forever. 
Diana's mother (Mrs. Barry) worried that Diana read too much. After Anne Shirley arrived, however, it is assumed that she stopped reading so much and became intimate friends with Anne. 
School years
This page needs your help!

You can help out Anne of Green Gables Wiki by adding or updating to the article, correcting grammar and spelling issues, and taking other steps to make the article great. If you need any help, please see our policies. Details: Update for events from Anne of Green Gables and Anne of Avonlea.
Much to Anne's surprise, Diana said yes when Fred Wright asked her to marry him. During the course of Anne of Avonlea the two were engaged. Anne was glad her bosom friend was happy, but secretly considered Fred far different from the dashing, handsome, and wicked ideal Diana had dreamed of in younger years.
Marriage with Fred Wright
In June 1886, Diana and Fred got married in Orchard Slope, Avonlea. She chose Anne for bridesmaid, Gilbert was Fred's groomsman. Diana wore a beautiful white wedding gown, pink roses, and a misty veil.
Diana and Fred had together three children. In July 1887, she gave birth to her eldest son, Fred Jr. who was named after his father and was extremely fat and round. 
In December of next year, her second child was born. She named her daughter Anne Cordelia after her childhood best friend Anne and her dream name, Cordelia Fitzgerald. Only Anne and Diana knew the reason behind it, however, Avonlea was shocked that she chose the name Cordelia, as it was not in either of the Wright or Barry connections.
In late 1890, Diana gave birth to her youngest son and named him Jack.
Personality
Relationships
Anne Shirley
Anne and Diana became best friends upon first meeting when Anne swore "eternal friendship" with her in the garden. They kept their promise to each other and remained best friends even when Mrs. Barry wouldn't let Diana play with Anne because Anne had set Diana drunk on currant wine. Later, however, when Anne saved Diana's younger sister Minnie May's life, Mrs. Barry let her daughter play with Anne again.
Fred Wright
Diana probably met Fred in Avonlea when they started courting. He was much different than the "ideal man" that Diana wanted to marry -- he was "round and red". However, Diana still loved him and entrusted him with her secrets, later marrying him in 1886.
After their marriage, the couple had three children: Fred Jr., Anne Cordelia, and Jack.
Gilbert Blythe
Mrs. Barry
Physical appearance
Diana was rosy cheeked with black, curly hair and black eyes. She was plump but wished to be tall and slender.
Etymology
Diana is a female given name of Latin origin and means divine.
Diana's friend Anne Shirley named one of her twin daughters Diana. Years later, her sister Nan named her only daughter Diana.
Behind the scenes
Portrayal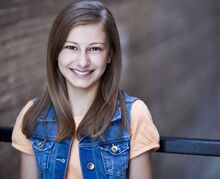 Julia Lalonde portrayed Diana in the 2016 film L.M. Montgomery's Anne of Green Gables.
Jutta Majava plays her in the 2015 Finnish web series Project Green Gables.
Ravyn Hohneke portrayed Diana in Green Gables Fables (2014–2016), an American-Canadian web series and the modern adaptation of Anne of Green Gables.
May Walker portrayed her in the 2008 film Anne of Green Gables: A New Beginning.
Uschi Hugo was Diana's voice actress in the German audio dramas Anne auf Green Gables (2008), Anne in Avonlea (2008), Anne in Kingsport (2009) and in Anne in Four Winds (2010).
Buddhika Wimalasekara portrayed older Diana in the Sri Lankan TV series Anne (2007).
Piyumi Gamage portrayed younger Diana in the 2007 TV series Anne.
Tara Lipinski provided the voice of Diana in the 2007 audio drama Anne of Green Gables.
Rebecca Peters was her voice actress in the 2005 film Anne: Journey to Green Gables.
Emily Hampshire was Diana's voice actress in Anne of Green Gables: The Animated Series (2000–2001).
Joanne MacInnes provided the voice of Diana in the 1997 radio drama Anne of Green Gables.

Schuyler Grant portrayed Diana in three films directed by Kevin Sullivan; Anne of Green Gables (1985), Anne of Green Gables: The Sequel (1987) and Anne of Green Gables: The Continuing Story (2000).
Gara Takashima was her voice actress in the 1979 Japanese TV series Akage no An.
Jan Francis played her in the 1972 TV series Anne of Green Gables and in its sequel, Anne of Avonlea (1975).
Katka Minichová provided the voice of Diana in the 1966 radio drama Anna zo Zeleného domu.
Lise Lasalle portrayed Diana in the 1957 TV film Anne de Green Gables, also starring Mirielle Lachance as Anne Shirley.
Margaret Griffin portrayed her in the 1956 TV film Anne of Green Gables, and in its 1958 Anne reprise.
Phyllis Shumway portrayed Diana in five episodes of the 1952 TV series Anne of Green Gables.
Rita Staines was Diana's voice actress in the 1944 radio drama (1944).
Rosamund Barnes provided the voice of Diana in the British radio drama, Anne of Green Gables (1941).
Gertrude Messinger portrayed her in the 1934 film Anne of Green Gables, also starring Anne Shirley as Anne Shirley.
Laurie Lovelle portrayed Diana in the 1919 silent film Anne of Green Gables. She was the first actress to play the part.
Since 1965, these actresses have portrayed Diana in the Charlottetown production of Anne of Green Gables – The Musical: Marylyn Stuart (1965–1966, 1969), Susan Anderson (1967–1968, 1970), Glenda Landry (1971–1973, 1977–1980s), Mari Trainor (1974–1975), Deborah Templeton (1976), Liz Gilroy (1998), Lisa Rubin (1999), Sarah Daurie (2000), Brenley Charkow (2001), Heidi Ford (2002–2005), Lisa Lennox (2003 alternate, 2011), Natalie Daradich (2006), Alison Smyth (2007), Kathryn Ballantine (2008), Alanna Chisholm (2009), Katie Kerr (2010, 2012, 2016), Jessica Gallant (2013–2014) and Jessie Cox (2015).
Since 2005, these actresses have played the part in the Summerside and Charlottetown productions of Anne & Gilbert: Sarah Sheps (2005, 2007), Brittany Banks (2009–2011, 2013), Brieonna Locche (2014) and Alessia Lupiano (2015).
Trivia
Diana was modeled after Laura Pritchard Agnew, one of Lucy Maud Montgomery's first kindred spirits, who lived in Prince Albert, Saskatchewan. Gilbert Blythe was modeled after Laura's brother Will.
Diana's name was originally Laura, then it was changed to Gertrude.
In the books, Diana is known for her black hair and she is married to Fred Wright. In the 1934 film, Diana was blonde and she was married to Mr. Roberts. Their wedding took place during Anne's stay in Charlottetown, so she wasn't able to attend her friend's wedding.
Gallery
Appearances
Main article: Diana Barry/Appearances
Book appearances

Short story appearances

Film appearances

TV series appearances

Stage appearances

Radio drama appearances

Audio drama appearances

Web adaptations appearances
External links