The 1890s was the decade between January 1, 1890 and December 31, 1899. It is known also as the Gay Nineties and the Mauve Decade.
Involvement in Anne series
Edit
February - Anne got presents for her baby from Diana, Phil, Leslie and Mrs. Lynde.
April - Captain Jim decorated garden in House of Dreams with shells.
June - Marilla and Susan Baker came to House of Dreams. Joyce Blythe was born in the morning - in the evening she died.
July - Anne became closer friends with Leslie.
August - Owen Ford came to Four Winds and boarded with the Moores. Owen met Captain Jim, began the life book, and fell in love with Leslie.
September - Leslie told Anne of her love for Owen.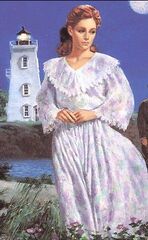 June - John Blythe died. Anne with Gilbert came to funeral to Avonlea. Aunt Mary Maria came to visit. Jem got lost.
July - Jem went to Green Gables, Walter visited Lowbridge and escaped. Rilla Blythe was born in Ingleside, Glen St. Mary.
September - Gilbert cured Sam Ellison. Nan drank Anne's perfume. Walter started going to school. Shirley locked himself in a closet and forgot how open the door. Aunt Mary Maria set fire to curtains. Diana and Elizabeth Grayson visited Ingleside.
October - Rebecca Dew visited Ingleside. Susan found her to be a kindred spirit.
November - Gilbert went snipe shooting in Nova Scotia.
December - Christmas in Ingleside. Gilbert played Santa Claus. Elisabeth sent Annea  little statue of Artemis. At Christmas dinner, Aunt Mary Maria bossed the Blythe children.