The 1870s continued the trends of the previous decade, as new empires, imperialism and militarism rose in Europe and Asia. It lasted from January 1, 1870, to December 31, 1879.
Involvement in Anne of Green Gables series
Edit
In 1870s, many of Anne's students and friends were born.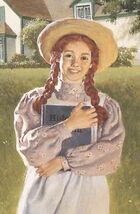 Date
Event
Spring

Anne, Diana, Jane Andrews and Ruby Gillis founded Story Club.
Anne died her hair to green.
Rose West took pneumonia and died in Four Winds, Prince Edward Island.
Dick Moore visited his relations in Nova Scotia and decided to sail to Havana.

June 30

Mrs. Irving died in Boston, USA.

Summer

Gilbert saved Anne's life, when she was playing Lily Maid and her raft sank.
Dick Moore died in Havana, Cuba.

November
Unknown

Bruce West died in Glen St. Mary, Prince Edward Island.
Ad blocker interference detected!
Wikia is a free-to-use site that makes money from advertising. We have a modified experience for viewers using ad blockers

Wikia is not accessible if you've made further modifications. Remove the custom ad blocker rule(s) and the page will load as expected.